Koalas are an iconic endangered species living in a fire-prone environment. This makes them an ideal subject when investigating solutions to wildfires.
We explored how koalas fared before and after cultural burns on Minjerribah island (also known as North Stradbroke Island), near Brisbane on Quandamooka Country.
We used heat-seeking drones to assess population density and collected koala droppings to check hormone levels. We found cultural burns had no detectable effect on these parameters.
The project also found the benefits of cultural burns extended far beyond landscape management. We hope this research further highlights the practice of cultural burning as a strategy to help us manage the risk of wildfire in a warming world.
---


Read more:
'Failure is not an option': after a lost decade on climate action, the 2020s offer one last chance


---
Menacing megafires
The Australian Black Summer bushfires shocked the world. But nothing brought home the terrifying ferocity of the megafires – and our vulnerability to them – more than scenes of dead, dying or distressed koalas in an apocalyptic landscape.
Unfortunately, there's overwhelming evidence that megafires are part of the new normal. Climate change will continue to create the exceptionally dry fuel loads and dangerous fire weather that lead to catastrophic events. So we need to find ways to minimise the damage.
---


Read more:
Moving beyond America's war on wildfire: 4 ways to avoid future megafires


---
Ancestral practices of cultural burning hold great promise all over the world. The California Fire Science Consortium says fire fuel control, such as that derived from cultural burning, can limit the severity of future wildfires.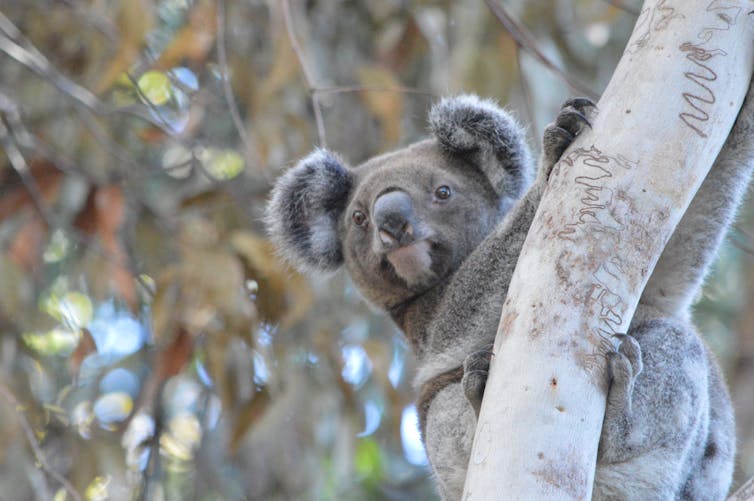 Minjerribah is a haven for wildlife. Half of the land is already national park and there are plans to increase the protected area.
Cultural burns have been a significant part of Minjerribah's history. However, in recent times, large and intense fires have swept across the island, causing considerable damage to property, ecosystems and cultural resources. A megafire on Minjerribah in January 2014 burned more than 70% of the island – the largest fire in memory there.
Living on the edge
There is scant research on wildfires and koalas. That's largely because wildfires are dangerous and unpredictable, making them difficult to study. And when monitored koalas happen to be in the path of a wildfire, researchers tend to try to save them.
Koalas are particularly vulnerable, suffering long after the fire has passed. They have limited energy reserves and require continuous access to food.
That's a problem when trees lose their edible leaves. These trees typically require months to produce enough new foliage. After a fire, koalas are also vulnerable to overheating, because they rely on shade and cooling from healthy trees with thick canopies to regulate their body temperature.
---


Read more:
Scientists find burnt, starving koalas weeks after the bushfires


---
The koalas on Minjerribah are virtually disease-free, making this a rare and precious population in southeast Queensland. Wildfires pose the greatest threat to their survival, according to the Quandamooka Native Title rights administrators, Quandamooka Yoolooburrabee Aboriginal Corporation (QYAC). It is hoped restoring cultural fire practices will reduce the occurrence of large bushfires.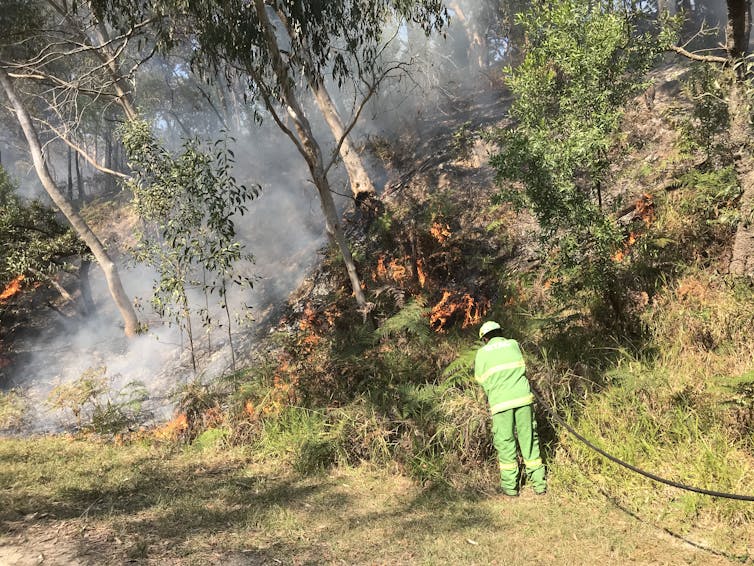 Cultural burning on Quandamooka Country
If cultural burning was a person, one might describe her as patient, slow-moving, calm and quiet. A cultural burn will snake slowly through a site, missing some patches. This creates a burn mosaic.
The fire is not too hot and does not burn high into the tree canopy.
Use of fire in the landscape varied across Australia, between different First Nations groups. Uses for fire can include: fuel and hazard reduction, regeneration of habitat, generation of and management of particular sources of food, fibre and medicines, facilitation of access and movement, protection of cultural and natural assets, or healing Country's spirit.
Quandamooka people have the oldest published archaeological occupation site on the east coast of Australia. Their use of fire is a deliberate and integral part of caring for Country. That includes burning and prevention of burning.
As leaders and practitioners of cultural burns on Minjerribah, the Quandamooka people wanted to establish standard practices for wildlife management during burning – specifically, whether thermal imaging drones could establish where koalas and other animals are present in areas to be burnt. This could inform actions to reduce risk.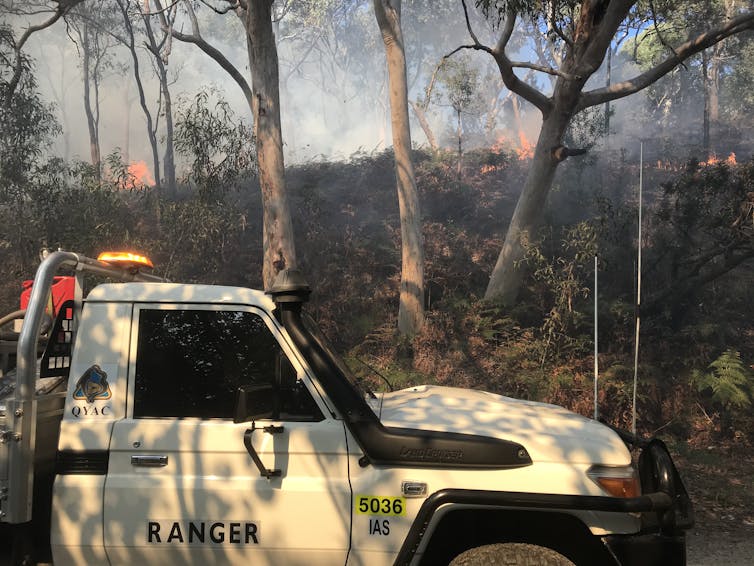 Studying koalas and cultural burning
Koalas are difficult to study, as they are exceptionally good at hiding. That has prompted researchers to find more innovative survey methods.
We used heat-seeking drones to establish koala density, and koala droppings to study their hormone levels. We established a baseline of both measures through repeat surveys prior to the burns.
We also compared sites with and without cultural burns, accounting for seasonal variations that are not due to the burns. We found cultural burns had no detectable impact on either koala density, or hormone levels.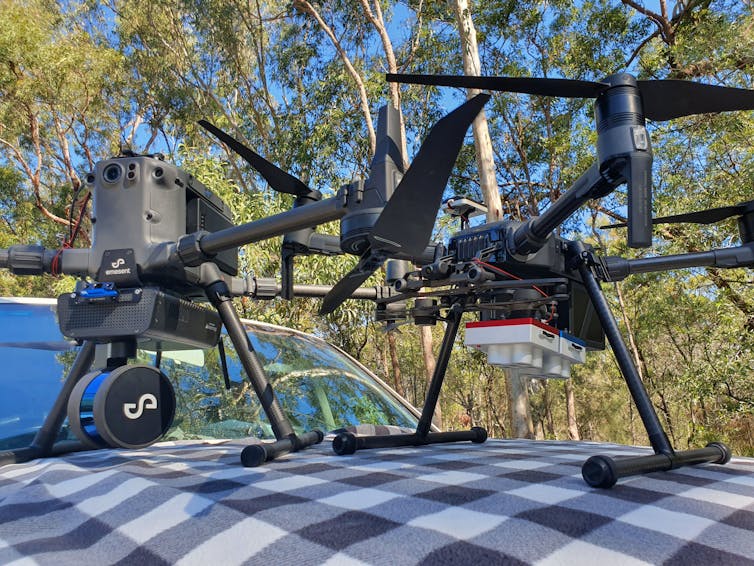 Multiple benefits of more feet on Country
A perfect cultural burn is lit the right way, at the right place and time of year. Some years, only some places can be burnt, based on the fire interval and soil moisture levels. This requires local knowledge and constant observation all year round, not just during a single pre-burn site visit.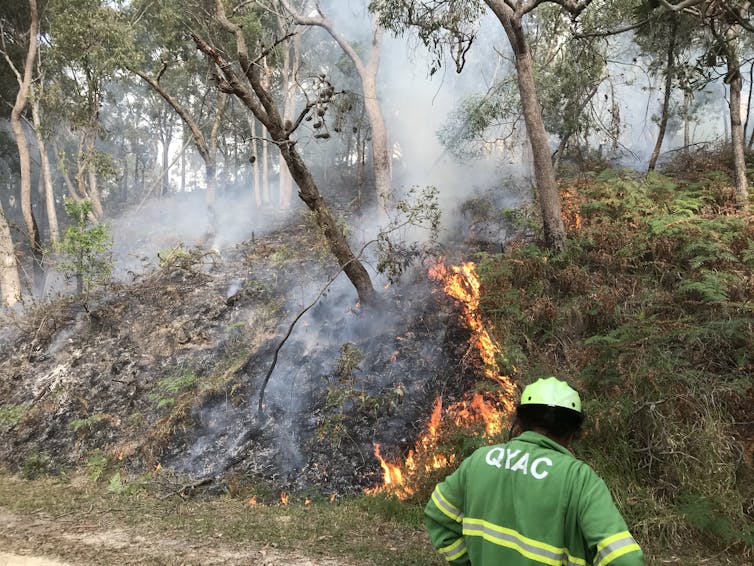 Having people on Country throughout the year also improves social connections between generations, and protects stories and sacred sites on Country. Other benefits include:
employment
reducing the risk of megafires
supporting low-carbon economies
improving biodiversity
increasing water protection
improving forest resilience and adaptation to climate change
reducing air pollution
fostering reconciliation.
Of course, this needs to be financially supported and done right – following the guiding principles of Responsibility, Respect and Recognition. It's crucial that First Nations people of the specific land are involved. The process should also be embedded within contemporary natural resource management and supported by government agencies.
Teamwork vital to success
As the world warms, we must become increasingly resilient and work together to find solutions. We can draw on past successes as we shape new and better ways of managing landscapes.
Compassion will play an important role, including the need to listen and respect all contributions even as the world around us is increasingly stressful, so we can create a better future for all.