Youth and young adults hold unique, creative and diverse perspectives and approaches compared to their adult counterparts. Think about the advocacy of Greta Thunberg and Mikaela Loach around climate change and climate justice or Malala Yousafzai's advocacy for all children's rights to receive an education.
While these advocates have challenged the marginalization of children's and young people's voices in the context of countries' governance typically structured around adult participation, countries around the globe have ratified the United Nations Convention on the Rights of the Child and many organizations work to amplify youth voices.
Our work with the UpLift Partnership in Nova Scotia, Canada, is aimed at supporting the health and learning of school-aged children and youth by empowering them to take the lead in making their school communities more supportive, healthy, sustainable and safe.
We share this work as part of observing International Youth Day on Aug. 12, a day to celebrate, acknowledge and recognize the rights of young people to drive social change for themselves, their communities and the world. We also share it to support youth engagement in social change and healthier school communities year round.
Health Promoting Schools
The UpLift Partnership is rooted in a global movement and model of Health Promoting Schools, first championed by the World Health Organization and driven by the insight that "health is created and lived by people within the settings of their everyday life."
Involving youth in promoting health in schools can catalyze students' ability to initiate and bring about positive change in the world — what researchers call their "action competence."
This includes building knowledge, motivation and competencies that align with this year's International Youth Day theme, Green Skills for Youth.
Building 'green skills'
The Uplift Partnership brings together different stakeholders such as school communities, government partners and not-for-profit organizations and is hosted at the Healthy Populations Institute at Dalhousie University.
The partnership between these diverse parties is grounded in over a decade of research designed to enhance youth engagement within the Health Promoting Schools model.
Over the past four years, youth have led projects through the support of UpLift student action grants. Building green skills helps them to understand the strong connection between health, well-being and nature.
Tranquility Garden
In fall 2020, in the COVID-19 pandemic, a student group in Northport, N.S., created an outdoor space for their school community. Prior to this, the school did not have a physical outdoor seating area or place for the students and staff to connect with nature, despite its rural location.
The Tranquility Garden now provides students, staff and animals with a calming and enjoyable place to visit and play. Students and staff planted fruit trees, flowers and shrubs, and built benches for seating to create the garden.
This student-led initiative has given this school a place to learn, play and connect outdoors.
Outdoor shelter, cooking by fire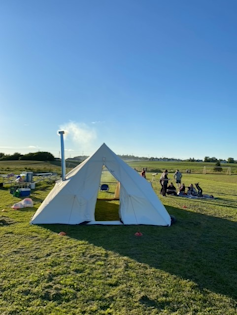 Over 90 students worked on an UpLift student action grant to create an outdoor shelter with a stove at their school in Colchester, N.S.
Prior to installing the hot tent shelter and stove, few students at the school had the desire to learn outside due to the exposed nature of the outdoor space.
The outdoor shelter now serves as a space for multiple learning opportunities that connect the students to their environment, like stargazing, cooking by fire and building outdoor education skills. It is also a place for students to simply connect and socialize with peers outside.
Farm-to-school movement
A student action team in Tatamagouche, N.S., worked with UpLift to purchase salad bar infrastructure where they can prepare the food they grow and harvest in their school gardens. This Go Fresh Salad Bar station is the final piece of a growing farm-to-school movement in their school. The school community already had plans to build a school garden and greenhouse.
This funding provided the salad bar infrastructure necessary to support more diverse and nutritious food options at the school cafeteria. This infrastructure also supports youth building green leadership skills through sustainable food processes such as menu development and food preparation.
Healthier futures
These are just a few examples of how youth have the capacity and potential to change their school community. As researchers have documented, youth participation in school health promotion enhances youth knowledge, competence, motivation and commitments to health and well-being. This, in turn, will help young people become active citizens for a healthier future.
There is no day like today to advocate, highlight and build awareness of the transformative power of youth voices in making our world a more sustainable and healthy society. As famously quoted by Thunberg, "You are never too small to make a difference," and a difference is never too small to impact the world.
Follow the #YouthLead initiative by the United Nations to celebrate International Youth Day. It is time for youth to have a lead role on the world's stage, and for more adults to uplift them.