The sword of Damocles hangs over the Trudeau government as it prepares a pharmacare bill that must be passed this year to uphold its supply and confidence agreement with the NDP. This month might be the most crucial time in the history of pharmacare, the long-promised yet undelivered program that would add necessary medicines to Canada's national health insurance system.
Pharmacare is more than just a financial system. It is — or should be — a system of policies aimed at integrating medicines into Canadian Medicare to ensure access to a safe and secure supply of treatments at affordable prices.
Given the current challenges, pharmacare is once again in peril of failing to launch. A national procurement program for essential medicines, like the program used to acquire COVID-19 vaccines during the pandemic, could provide a feasible, evidence-based solution for Canadians.
Rocky discussions
Public statements from NDP health critic Don Davies signal that discussions on the bill have been rocky.
The NDP are trying to hold the government to the recommendations of Trudeau's own Advisory Council on the Implementation of National Pharmacare, chaired by former Ontario health minister, Eric Hoskins. That recommendation was a universal, public program for covering medicines on a national formulary (a list of drugs to be included), beginning with about 100 of the most commonly prescribed, "essential medicines." That first stage is critical, whether financed by Ottawa alone or in conjunction with provinces.
In contrast, the private insurance and pharmaceutical industries have lobbied for an American-style, "fill-the-gaps" system that would rely on — possibly even legally mandate — work-related private insurance for prescription drugs. Québec implemented such a system in 1997 to the delight of industry stakeholders but at great cost to patients, businesses and even taxpayers.
The NDP has signalled that "fill-the-gaps" pharmacare does not fulfil the government's obligations under the supply and confidence agreement. Unfortunately, however, Trudeau's government appears weak in the face of industry lobbying.
Delays and challenges
In 2019, the federal government planned to reduce drug prices as a "foundation" for national pharmacare, but later delayed and then watered down and walked back patented drug pricing reforms.
Those reforms would have prevented firms from price gouging on medicines to treat serious conditions, such as rheumatoid arthritis and cancer. Prominent officials involved in the reform process resigned in protest of what appeared to be meddling from the office of health minister Jean-Yves Duclos.
After a cabinet shuffle in July, the pharmacare file now lies heavily on the desk of Health Minister Mark Holland. In the coming days, perhaps weeks, the minister needs to find a path that stays true to the government's own recommendations, its prior commitments to Canadians and its deal with the NDP. The plan must also be one that provincial governments will support.
At this point, it does not seem viable for the federal government to launch the complete vision of national pharmacare laid out in the Hoskins report. That would be a $38.5 billion, comprehensive, program that would be administered by provinces but require $15 billion in new federal funding, plus $23 billion contributed by provinces. The latter is not new money but is a source of provincial anxiety and political tension to say the least.
National procurement
There is another way for the government to act in a principled and evidence-based manner that could not only get them out of this bind but also leave a positive legacy for generations to come.
The federal government could procure essential medicines nationally for distribution by provincial governments, just as it has done for COVID-19 vaccines, tests and treatments for the past three years.
More than 100 countries have developed essential medicines lists for national procurement and distribution. We have evidence that providing Canadians with coverage of approximately 125 essential medicines to treat a wide range of conditions will improve health care for patients, reduce financial burdens on families and lower costs elsewhere in the health-care system.
National procurement will reduce the cost of these medicines through bulk purchasing. It can also reduce shortages of medicines on the list by including security of supply provisions into the national supply contracts. Countries that used these best practices in supply contracts reduce the risks of drug shortages while still achieving prices that are as much as 90 per cent lower than Canadians pay.
Federal funding of essential medicines will, of course, cost the federal government, since it would foot the bill for all of those essential medicines instead of the provinces paying much of the costs. But the $7.6 billion price tag is a bargain.
All told, a program of this kind could save provinces, employers and families $12 billion in reduced prescription drug costs. The $4 billion in direct savings for provinces alone is enough to entice even the most recalcitrant of provincial governments.
---


Read more:
With a pharmacare bill on the horizon, Big Pharma's attack on single-payer drug coverage for Canadians needs a fact check


---
On the other hand, Trudeau's government could do what industry lobbyists want them to do. Such a program will not save provinces, employers and families any money; it will cost them $5 billion more than they are already paying for medicines.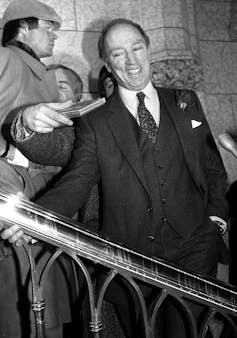 Another Trudeau faced a similar challenge in 1983 when provincial premiers, ministers of health, and ministers of finance joined health care lobbyists in opposition to a contentious bill.
Former Prime Minister Pierre Trudeau and Health Minister Monique Bégin stood strong and, in the dying months of their government, got the cornerstone Canada Health Act passed.
The sword now dangles over Prime Minister Justin Trudeau and Health Minister Holland who will either buckle under the pressure from industry lobbying or rise to a long-promised signature policy that could shape this government's legacy.